THEME : Airborne's role in meeting global demand on resources
Mapping geology is a key to success for many of the Energy Transition scenarios. Take projects to the skies with Bell Geospace.
The Energy Transition brings an increasing focus on geothermal, minerals/metals, wind/solar, and unarguably Oil & Gas is needed to fuel the transition. Furthermore, there are the mitigation requirements such as underground storage sites for storing hydrogen, carbon, and even nuclear waste disposal.
Mapping geology is essential to succeed with these objectives. Here at Bell Geospace, we assert that airborne data acquisition, processing, and interpretation has a role to play in helping operators achieve their energy transition targets. Our responsive team and innovative technology places us right at the heart of our industry, with our customers-needs at the centre of everything we do.
Bell Geospace high resolution data is available at low cost and is complementary to both legacy and new multi-discipline datasets. The combined impact of multiple data types plays a direct role for mapping base geology from near surface to depth and tracking the important geological structures driving the mineral/petroleum system.
Tight line spaced FTG provides essential information for the near surface exploration of metals or identification of suitable storage sites.
Increasing wider line spaced surveys maps the geological distribution of required commodities, be it O&G, base & critical metals, or dry/water-filled reservoir for geothermal resources.
Our team has prepared various activities for the SEG around these theme. We invite you to explore with us.


Explore Sri Lanka - The Future of Energy is Unfurling in Sri Lanka
There are new acreage opportunities, new legislations, and new data in Sri Lanka. We invite interested parties to join our virtual presentation with PRDS and Schlumberger to learn more. Scroll down to Booth Activities to learn more.
Critical Minerals and Mineral Systems - Airborne Coverage Provides Critical Intel
Bell Geospace is proud to have our airborne data included in the new Geologica training course. Graham Banks will be delivering a short course overview as part of Bell's virtual booth proceedings. We're also sharing a minerals exploration case study presentation by our Chief Scientist Colm Murphy so be sure to join us live for that one. If you're looking for more of an entry level presentation, please join in the Critical Minerals and FTG intro session with Liam Clark.
Scroll down to Booth Activities to learn more.
Carbonates Exploration will Pay Dividends - FTG excels in Carbonates Exploration
Carbonates play host to some of the biggest reserves of O&G and metal deposits ever found. If exploring carbonates is your game, may we recommend the Malaysia Multiclient update which includes case studies on Sarawak Carbonates, and check out the Indonesia case study presentation too.
We are delighted to host an interesting academic talk from guest speaker Siti Nur Fathiyah Jamaludin, Lecturer at Universiti Teknologi PETRONAS. Siti will present Shallow vs. Deep Subsurface Structures of Central Luconia Province Offshore Malaysia Revealed by Aeromagnetic, Airborne Gravity, and Seismic Data.
For even more detail, why not request a meeting with Colm Murphy to see Bell's new 'curvature method' in action? He demonstrates the clear mapping of carbonate reefs and corresponding fault networks. The data is from Malaysia, and the analogues are globally relevant.
Scroll down to Booth Activities to learn more.
Show Activities Participation in Official Proceedings
Business of Applied Geoscience: Business of Mining Geophysics.
This plenary session will discuss the mining geophysics business, providing industry insights, current challenges, latest developments, commercial opportunities, and networking activity.
Scott Hammond, Bell Geo's CEO - Panelist
29 September, 1:20 p.m.–5:20 p.m Mountain Time
In Person and Virtual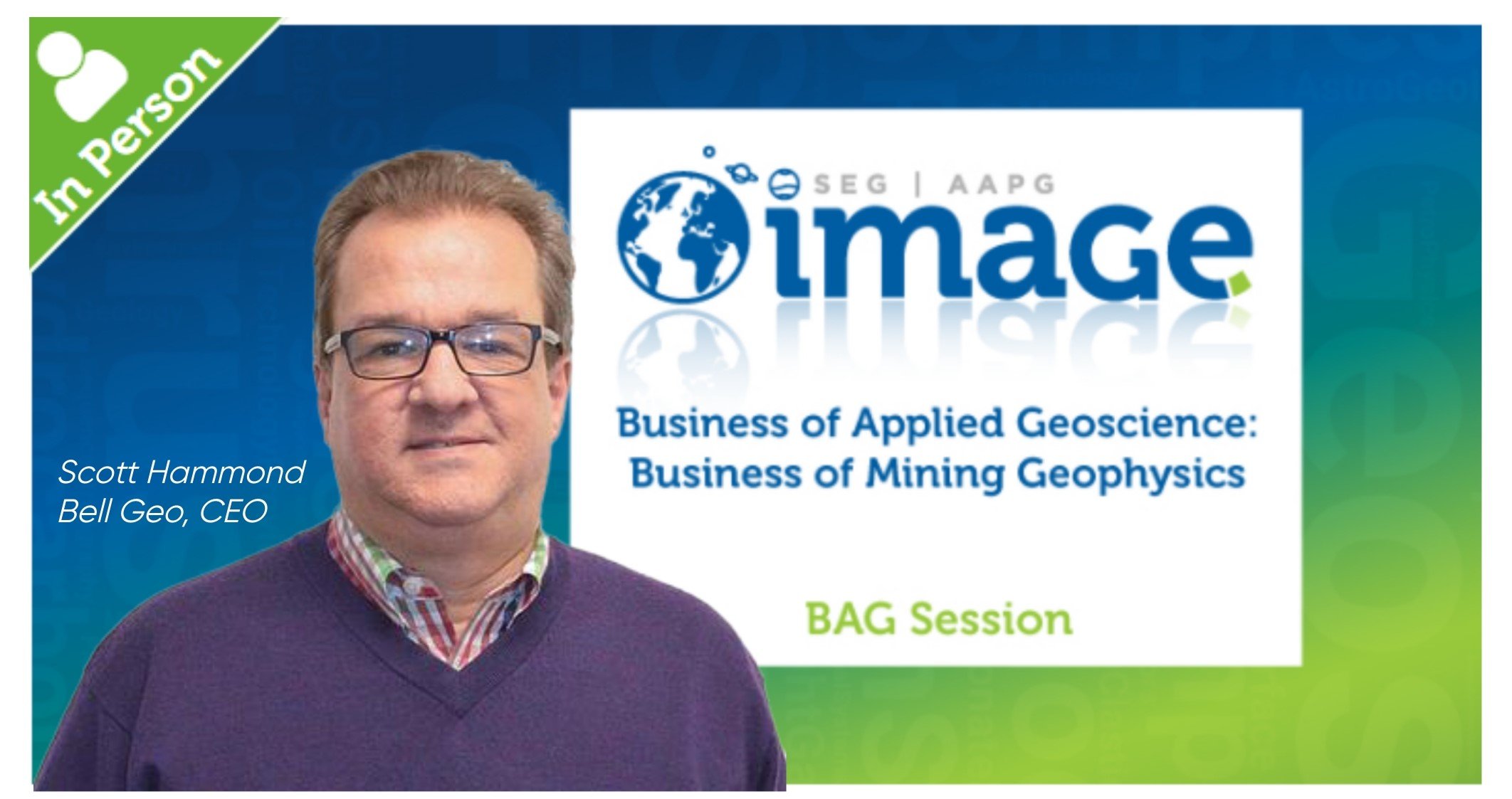 Workshop-03 Filling in the Gaps: The Role of Multiphysics to Understand Geologic and Mineral Systems, 1.
The Molopo Farm Project: what Full Tensor Gravity Gradiometry, magnetic data, 3D inversions, and multi-physics unsupervised clustering can tell us on the geology. G. Pouliquen, Bell Geospace UK, S. Walker, Campbell & Walker Geophysics Ltd., D. Eberle, Nadir Geophysics (Pty) Ltd.
Presented by Gaud Pouliquen
1 October, 1:30 p.m.–5:00 p.m Mountain Time
Virtual
Workshop-03 Filling in the Gaps: The Role of Multiphysics to Understand Geologic and Mineral Systems, 1.
Mapping mineral systems under cover: the right geophysics at the right scale in the right order Graham Banks*, Route To Reserves and Southern Geoscience Consultants; Robert Hearst, Southern Geoscience Consultants; Scott Payton, Bell Geospace; Graham Anderson, Volatus Aerospace
Presented by Graham Banks
1 October, 1:30 p.m.–5 p.m Mountain Time
Virtual
Show Headlines The Bell Geospace Plane is Coming To the Americas
Have you seen the latest advancements of FTG Gravity Gradiometry & Magnetic Data for Exploration?
Are you exploring for minerals, oil & gas, or geothermal resources? Maybe you are re-processing soon and looking to find new value in legacy data. Are you seeking energy storage solutions, or do you simply need to meet your work commitments on a budget? If the answer is yes to any of the above, it's time to catch up with Bell Geo!
Show Headlines New Full Spectrum Gravity Gradiometry - FTG GTz
With the addition of the new GTz gravimeter, Bell Geospace data acquisition and processing is now set to provide the best possible results in any environment with any depth to target. From onshore, through transition zones, and into deep water operations.
Show Activities Join the Booth Activities Online
September 27th - 29th Activities will also be streamed live on the booth in Denver
Live / Live Streamed Talk with Q&A
Streamed / Watch on Demand
Malaysian Data Acquisition is Complete
See the data from the largest single holding of FTG data anywhere in the world! This is a 376,000 sq kms acquisition project. Our partners and our team are now busy interpreting some amazing results.
Bell Geospace is currently flying In Indonesia
This short but informative talk shares examples of de-risking fold-thrust belts in Eastern Indonesia, Seismic Planning, and Play Mapping in the Upper Kutai Basin. Even though the datasets are Indonesian, the applications are universal - anybody with an active interest in exploration should join!
Geological Understanding from the Skies
From fertilisers, to minerals to water, to petroleum - Airborne data is key to meeting global resource demand. Jim White, Executive Director at the SEG | Sean Walker, Geophysicist at Campbell & Walker | Eleanor Shaw, Senior Mine Geologist at Anglo American discuss.